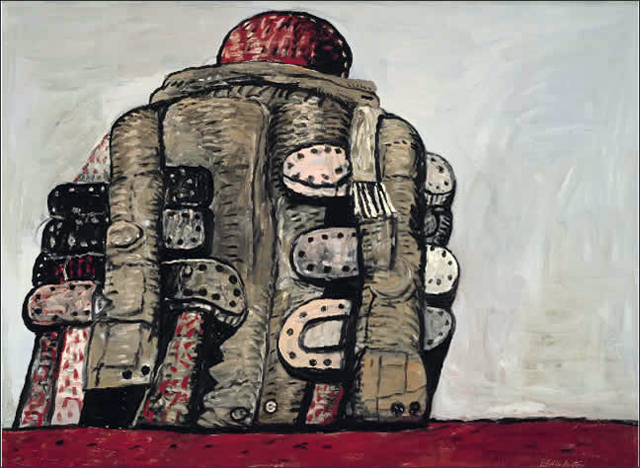 There are few painters whose work thrills me as much as Philip Guston's. The flow of thick, definitive lines, and the warm brushstroke-laden films of paint have captivated me for most of my adult life. And of course the clear references to comics and the comic strip. There is also the moody-broody darkness as well. Where the heavy paint seems to drag us in to Guston's mind, and all the experiences his mind has had.
This painting, "Back View" painted in 1977, is one that struck me when I first came across Guston's work in college. Formally, its design always appealed, but the brazen dirtiness, the grime in both imagery and execution always gets to me. In it I see the investment that painting is, the toll and struggle it demands of the painter, and the amazing possibilities of submitting to what a painting wants.
It was in viewing this painting that I first got an inkling of a sense that a painting could be like this. It was to my 19 year-old-self, a powerful moment.
When I am stuck, or struggling, altogether lost with where I want an image to go, returning to view a few of Guston's paintings always invigorates me. When I spend sometime looking at his work, I a reminded that painting is so much the act of the painter struggling through the world, working with the world, working up the world, and perhaps working one over on the world. And of course it is ultimately about you alone in a room with an idea, and the work it requires is exhausting and empowering.