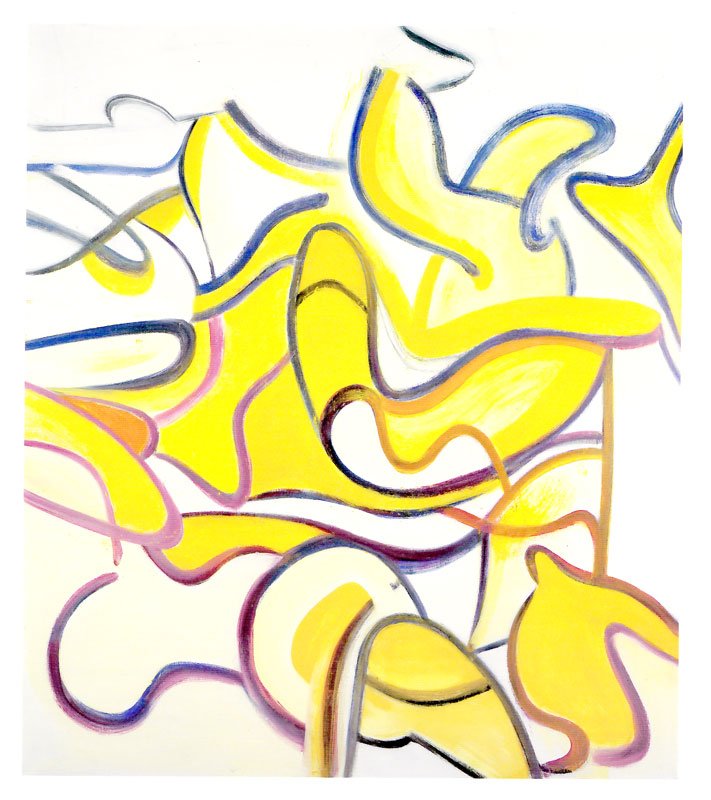 Untitled, 1987
In younger incarnations of myself, I saw De Kooning as the ideal archetype of the painter's painter. I  loved his paintings for their fierce energy and careful chaos – lately though, I think this way less and less. The most famous of his paintings, those "Women" of the early 50's,  seem more and more boring to me for all their roiling violence and aggression . Icons caught in brushstrokes, charged with unsettled emotion and the backwards maleness of an era long gone.
There are however paintings by De Kooning I continue to find immensely appealing  – his later work from his last years. These aren't the works one usually associates with De Kooning. One could say they are forgotten, or worse yet just footnoted to his career. These last works, from throughout the 1980's seem to reflect a different texture of thought at work – one of softness, calm, quiet, and brightly hued gentleness.
There is still evident work and rework throughout these paintings, that painterly searching that relays struggle and thought. But the result is not the building of emotion on emotion of earlier work, but instead a sense that they are simply being let go, moving through streams of white blankness.
Lately, I see myself returning to notions that DeKooning is a great archetype of a painter. What appeals to me now is perhaps simply his longevity. It seems so rare to me to see a celebrated painter live quite so long (He died at the age of 93) and roam over so many stylistic and textural changes. It seems ideal, to live long and to keep exploring what is possible in paint.
Most appealing is that looking back at all of his works you see this gradual loosening, a slow release of agression and intensity, to a more simple and sensual gentleness. This seems to me the perhaps goal of all longevity, to move towards the calm, to lose all that entangles you, and just through a single repeated act (in this case painting) continue to travel and explore.