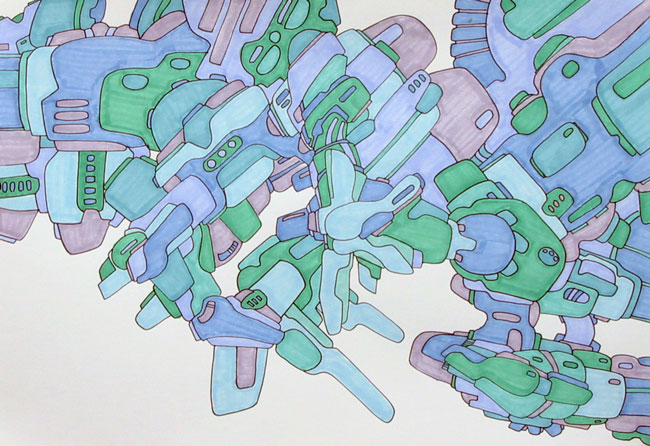 Iterations: Blue 605 ink and watercolor on paper    
Its turned cold again rather suddenly. Winter whipping its last little grip across our now spring-ly intoxicated eyes. I guess there is always a day like this, a late reminder that whatever has past in the air will come again, a don't-get-too-giddy moment pulling us back down to earth.
Or maybe not earth.
I have been having a slow and lazy day staring up into the sky. There is always a reward in spending time taking in the shifting forms of the clouds as they push along the invisible currents and calculations of the outer portions of this planet. The sky seems exceptionally bright to me as I look. It's pale, as though made less vibrant by the ever encroaching greens below.
Sometimes, when it seems there are no clouds in sight, I get the sense that the sky itself is moving, I feel I can see small swirls, shifts of blue, and paler lines streaming along in motions of some kind of celestial choreography.
Blues like these always seem to make a great starting point for a drawing. Dreamy like the sound of hand bells, and in constant motion pushing along the next great possibility or two.