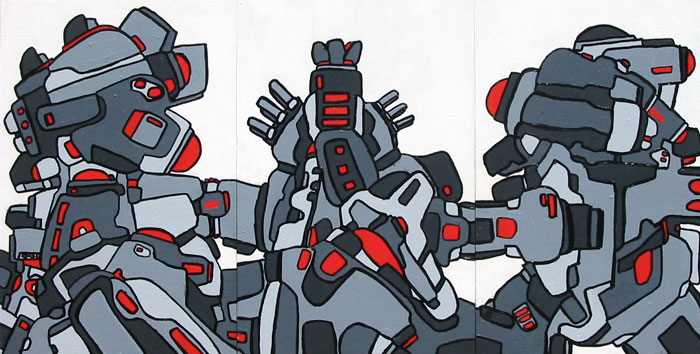 Iterations:  610 Acrylic on board (Triptych)  
Grey morphing and transforming. Thoughts breaking their shells and finding a structure for themselves.
This is an older painting, completed in my Tokyo studio a few years back. I usually dislike looking back at older paintings, and I end up feeling like better things are always coming next. But there is something that I rather like about this little painting. Something that tells a private story and reveals insights anew.
This painting was completed at a crossroads for me, when I was moving physically, and when I was changing thoughts and directions with my work. As of right now, I feel I am entering into another such instance. I have been stuck in a embryonic cycle for months now, awaiting a space in which to spread out an unfurl ideas.
The creation of my studio dominates my days now, but its getting closer. Growing slightly with every hour of work.
Inching towards color.