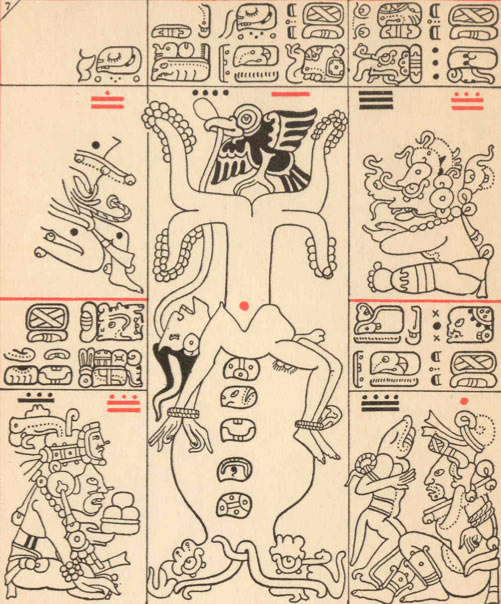 Maps, bodies, stories, symbols, totems, machines, talisman, graphics.
These are the things that interest me in making art these days. I circle around and through them in a number of different ways as I work, but always I come back to these things.They form a kind of cellular structure to how I approach making art and the kinds of objects and images I create. Somehow in all the things I see and experience, I come back to these components to address and confront them. They always seem to fit in a way that makes total sense.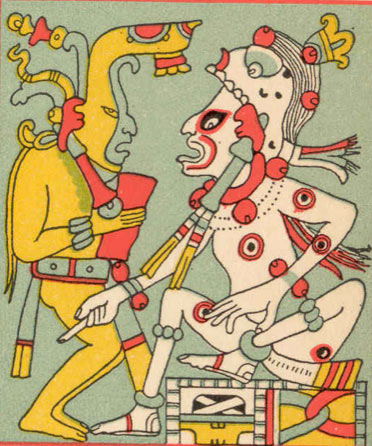 It is these things too that I find so fascinating about Mayan art, and particularly the images that comprise the stories of the Dresden Codex. The codex is the oldest known book written in the America's and although to my understanding it has not been completely translated, but it primarily contains information on astronomical observation, the Mayan calendar and related cycles, as well as information related to various rituals and gods.
And it looks like a big comic book filled with the kinds of things that thrill me.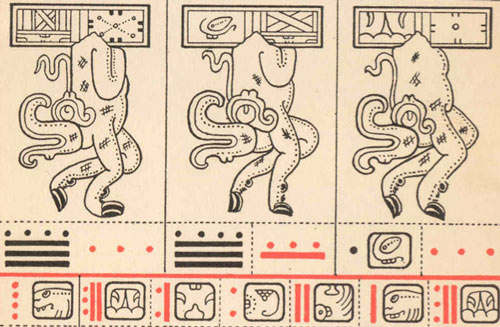 Maps, bodies, stories, symbols, totems, machines, talisman, graphics.
And the mixed nature of it's observational science and mythology also delights me. I don't think I ever truly want to learn what all the surrounding glyphs mean, I would prefer to let my mind wonder over them and find my own meanings. I don't want to be encumbered by the realities of Mayan culture, but make the choice to leave it as exotic and mysterious. I can't actually imagine that the knowledge I gained from a text would actually render a hundreds of years old culture much less mysterious, but I make the choice for my own reasons.
The images here are actually from traced and re-drawings by an Italian researcher named Agostino Aglio. The colors were later added in a published version by the Maya Society at Johns Hopkins University.
You see, this text makes it more boring already.
No doubt these writers and researchers worked very hard to re-create the colors and lines in these images. But there are also doubtless mistakes. In fact the history of publishing and showing the Codex seems always to bring up mistakes.
Like any translated document or story.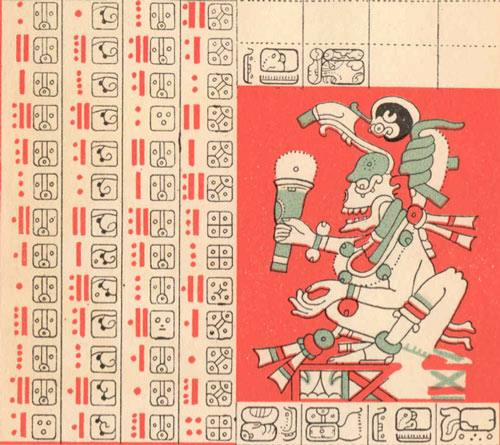 But I tend to like these kinds of mistakes. For all we know a Mayan reader would see them and recognize something extraordinary or universally true in the errors. Or perhaps they might just laugh at the weirdness of it.
But I like mistakes, on the odd chance one might turn out brilliant. And I like when things go weird, and stay weird and outside my experience. Often it is enough to just bask in them and engage my own curiosity. How different they are, how difficult to decipher.
It reminds me of the value of strangeness, and seeing and feeling that others can live on this planet in a way completely and totally different from my experience.