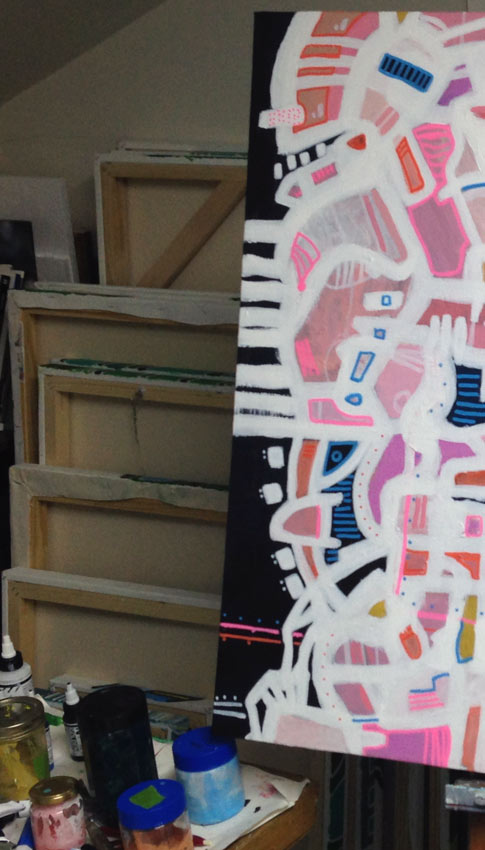 It gets late, and I could keep pushing myself to get things done. Another hour could slip away easily in a blur of color and lines. I could wrangle up the page I am working on to force it to the point of being an acceptable image or form. I could do this, because after all, only those willing to put in the work will excel. Only those who throw themselves into it full tilt will get themselves to the great mountain top of success and ability.
Yes. I could do that, but it wouldn't be worth it. Because quite simply the quality of my work would suffer. I am a night person, but right now my obligations are many and my hours are few. I could push myself to crank out some work tonight, but it would not be my best work. Further, no deadline is pressing and someday one will be – you have to pick your fights.
And some days you don't have to fight. For however great a struggle art-making can be, you have to recognize your limits and learn to work with them. Sleep and the dream-state that comes with it is the pure water of forever for artists.
I often yearn to work all night and push myself to new heights, but the cumulative effect of doing that is considerable. I still work a day job, and I most certainly have commitments to my wife and daughter. The time I may take now will roll in to tomorrow and by early afternoon, I will be a bug-eyed shell of myself, grouchy at a glance, and way too gravel-toungued for anyone's good – least of all my own.
Conversely, sleep now will have me ready when the next round of my work comes. I will be refreshed and able, restored and ready to pounce. Walking away from a work you are in the middle of is often extremely difficult. It can feel like leaving a baby out in the yard during the night. But you have to do it, because it is often the only way to push the work forward at all.
This is a long game. I am a wildly impatient person and I forget that from time to time. Sometimes you have something that you want very much that you can get lost in it, and you just keep pushing yourself cause you feel you can get to the next level, the next step, or just a little bit further. But in reality, you don't actually get any closer to where you want to be. Actually, you end up drifting, unclear of your directions, and unsure of yourself. And then you find yourself to tired to make the moves you need to make to truly breakthrough to where you want to go.
So, yeah, you could keep pushing yourself tonight, or any night, but this is a long game and you can't let yourself for get that.